10 Best Portable Productivity Freewares
I've had some time to browse the net to find some interesting and free portable applications that may indeed help you through your daily work productivity.  Well, at least some of these applications can be used primarily for 'work' but I presume that it would be more beneficial to you at home. Portable here means you can install it on a usb drive or even on a folder on your hard drive.
PicPick
PicPick is a versatile all-in-one tool for images on the desktop. Includes a powerful screen capture tool, editor, color picker and palette, pixel ruler, protractor, crosshair, whiteboard and more. Can upload images automatically to FTP, Facebook, Twitter, default e-mail program, or send to installed Microsoft Office programs (Word, Excel, or PowerPoint).
Alternatively, PicPick Portable is stealth and automatically adjusts paths. PicPick is freeware for personal use only.
Download here
DSpeech
DSpeech is a text-to-speech program with the option of saving the output to a variety of formats, great for creating audio books from text sources. It also supports dynamically changing the features of the voices e.g. insert pauses, emphasize specific words, spell them out etc. using tags.
The program works out-of-the-box on WinXP and above, using the included Microsoft speech engine SAPI5. For WinNT/2K, you will need to install the speech engine separately. You will find links to plugins, speech engines and voice sets on the program website.
The program can import text from TXT, DOC, DOCX, RTF, HTML, XML and PDF and output to MP3, OGG, AAC, WMA, OPUS and AMR.
You can use this for free but limits to 10 translations per day. A donation would get you a full version.
Artweaver
Artweaver is an image editor that tries to simulate natural brush tools eg. chalk, charcoal, pencils. It supports common image formats such as BMP, GIF, JPEG, PCX, TGA, TIFF, PNG and PSD, in addition to its own format (AWD). Image editing functions includes selection, gradient, crop, fill, transparency, layers, effects (sharpen, blur, emboss, mosaic etc.)
Download here
Paint.NET
Paint.NET is an image and photo editing software with support for layers, unlimited undo, image effects, and a tabbed thumbnail interface. The program includes a variety of paint bushes and selection tools as well as image filters such as sharpening, red-eye removal, distortion, noise, etc.

The program supports plugins and will automatically start in 64-bit if within an operating system that supports it.
Download 32-bit version
Download 64-bit version
Wise Program Uninstaller
Wise Program Uninstaller allows the removal of installed software and associated files, extras and other information default installers often leave behind. The program can search for more leftovers after an uninstall or force uninstall stubborn data that stays behind. The program can repair installs and is fully compatible with both 32-bit and 64-bit applications.
Completely Free and Perfectly Compatible with Almost All Windows Versions
Wise Program Uninstaller is freeware that allows you to completely uninstall programs (64 and 32-bit) installed on your system. It has been developed and fully tested to work great on Windows 8&8.1 and other Windows operating systems, from Windows XP and up. No matter what you own – a desktop or a laptop.
Download here
WizTree
WizTree is a very fast disk space analyzer and search tool, scanning a single folder or your entire hard drive quickly and showing those files and folders using the most disk space. The program uses the NTFS Master File Table (MFT) feature in Windows to rapidly view files.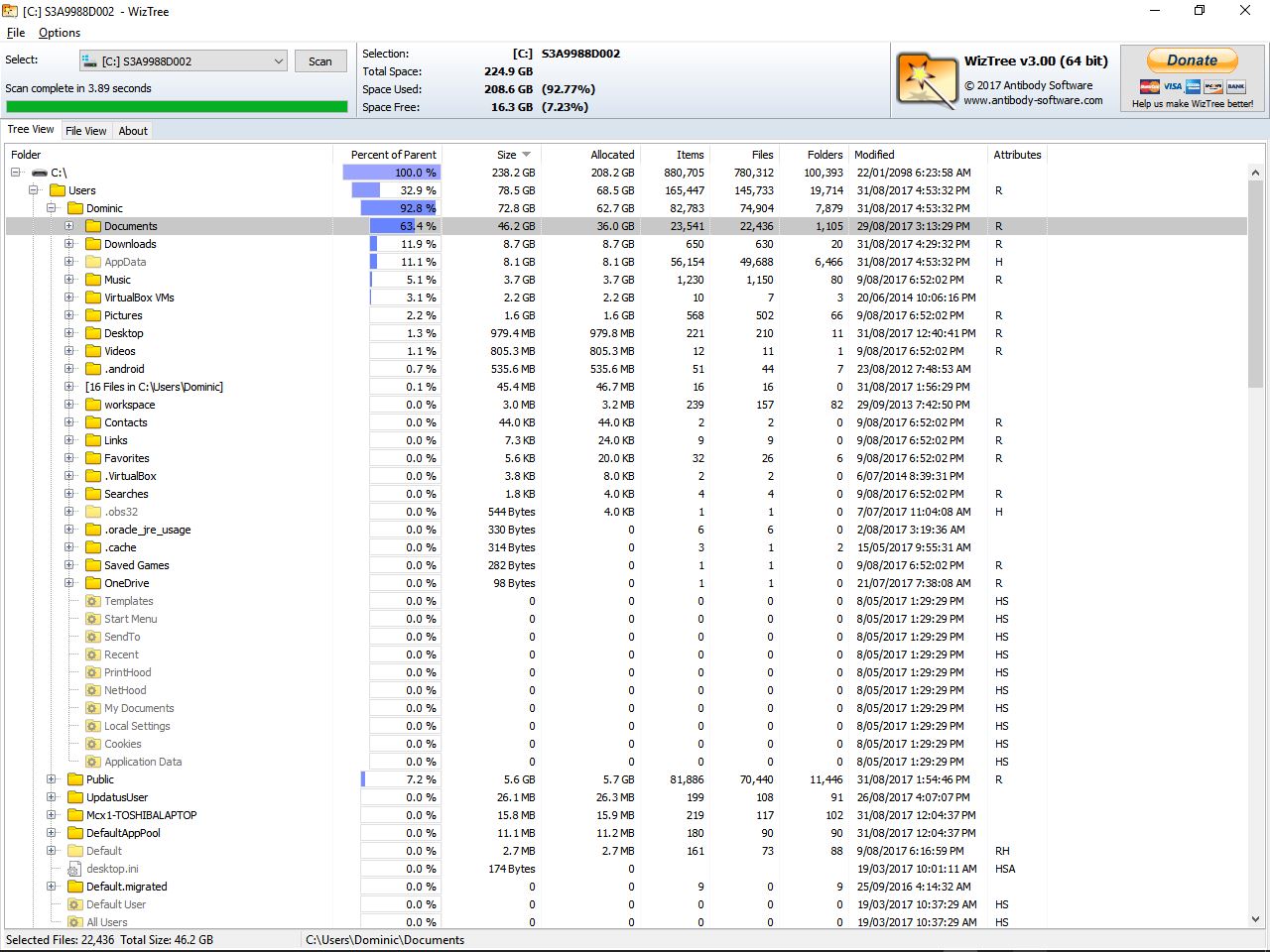 Note that this high-speed mode is limited to local, NTFS-formatted drives. The program must do a (much slower) scan of FAT-formatted or network drives for analysis.
Download here
iPhotoDraw
iPhotoDraw is a image editor and screencapture program. The program enables image filters, transformations, addendums, layers and arrangement. Photo filters include brightness/contrast, hues/saturation, inversion, sepia and grascale. Addendums include description text, call-out boxes (ballons), dimensions, stamps (1, 2, 3 …) and more.
The program also includes image slicer, watermarks, a color picker, stamps and batch operations. Images can be sent to Microsoft Office, FTP, or other external programs.
Download here
Mem Reduct
Mem Reduct is a lightweight, real-time memory management application to monitor and clean system memory on your computer. The program uses undocumented internal system features (in the Native API) to clear system cache (system working set, working set, standby page lists, modified page lists) with variable result ~10-50%.
Download here
XMedia Recode
XMedia Recode is an audio/video converter for most popular formats and includes handy profiles for popular mobile/tablet devices such as iPod, iPhone, Samsung, SonyEricsson, Zune, PSP, Blackberry, LG etc. These profiles include file format, screen size, and other details chosen specifically for a given player.
Functional in 64-bit. Format support includes 3GP, DVD, AVI, MP4, WMV, ASF and many more.
Download here
LibreOffice
LibreOffice is a complete productivity suite including word processor, spreadsheet, presentations, database, drawing tool and more. Includes strong compatibility for 100s of file formats including Microsoft Office (Word, Excel, PowerPoint, Visio etc). The program is similar to OpenOffice, a program that it was derived from, but has added many new features and improvements.
LibreOffice Portable is a special build developed in conjunction with the publisher. A "Still" version that's more tested and stable but with fewer features/capabilities is available via the website link. On systems without Java installed, some functions such as document creation wizards and the Base database application etc. can be enabled by adding jPortable, though this is optional and can be skipped if those functions are not needed. Alternatively, X-LibreOffice is also available.
Cross platform with versions available for Mac, Linux/BSD (comes default with most distros) and supports a variety of extensions. A more stable "Still" version is available from the website link.
XP users: v.5.4.0 Rev 2 is the last supported version.
Download here